These came out really good tonight and I thought I'd share with you. I used Jen's latest low-carb crepe recipe with a couple changes and am very impressed with that recipe, Jen.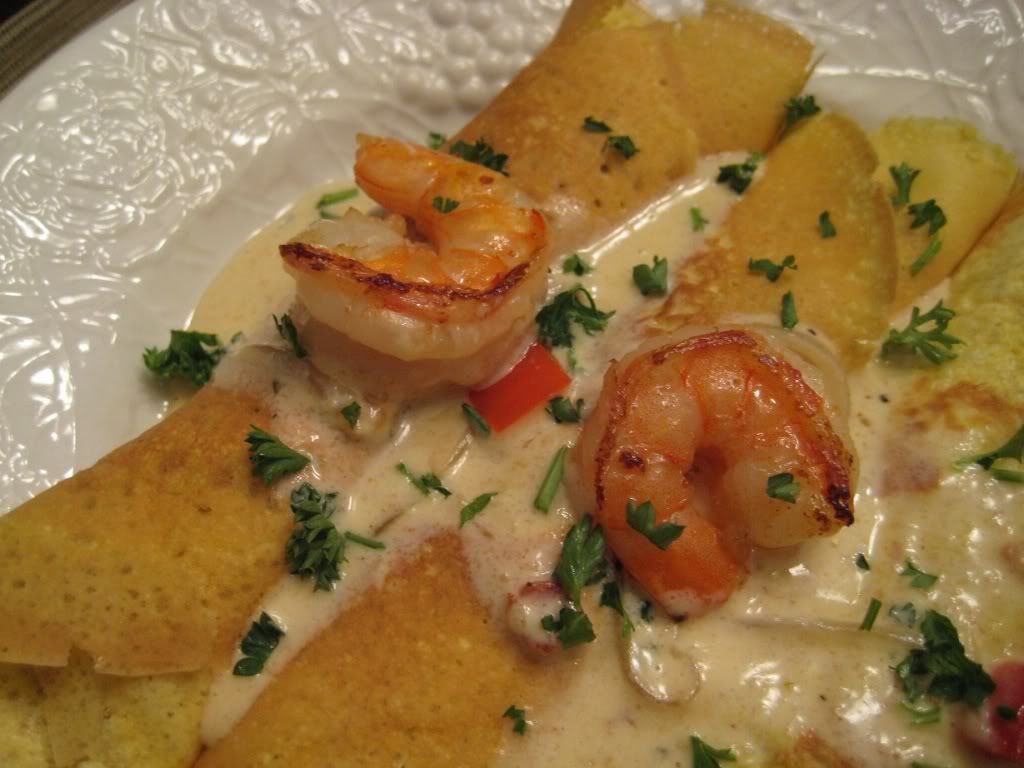 Ever since I had Paul Prudhomme's Seafood Crepes at K-Paul's Louisiana Kitchen in New Orleans, I've been wanting to try my hand at it. His entree had both crab AND shrimp. But crab in Central Texas leaves much to be desired, so I just used shrimp for my creation. Man, did these ever come out GOOD! My hubby gave this dinner a two thumbs up! These are definitely different from K-Paul's crepes, but I think I've put together an equally good dish. I don't recall any wine in his either, but I like a little in my creamy seafood dishes, so I added a little sherry to these. You need to leave it out if you're still in Atkins Induction phase. But they'll still be good without it! These would not be suitable for
Paleo
-Primal followers.
For this creation, I used Jennifer Eloff's latest low-carb crepe recipe (see below). I omitted the sweetener and vanilla in her recipe for this savory application and I also added 1/8 tsp. salt. I made my crepes earlier in the evening so those would be ready to go when it was time to prepare the dish and assemble. I just stacked the cooked crepes with plastic between each one and left on the counter. My crepe maker is 7″ in diameter (Jen's is only 5″) so I only got 5 larger crepes from the recipe (she got 9). Therefore, each of my unfilled crepes have slightly more calories and carbs. Of course, you can always just use a lightly oiled non-stick skillet to cook your crepes.
YOU'LL NEED:
1 recipe crepes (five 7″ crepes, made by Jennifer Eloff's Low Carb Crepes recipe, omitting the sweetener and vanilla and adding 1/8 tsp. salt.
FILLING INGREDIENTS:
5 oz. shrimp, peeled and chopped coarsely (leave 1 or 2 whole for garnish)
3 slices low-sodium, no salt added bacon, chopped
1 large shallot, sliced thin
¼ c. red bell pepper, chopped
¼ c. parsley, chopped
¼ c. white wine or sherry
¼ tsp. my Seafood Spice Blend or your favorite seafood seasoning
Dash each salt and black pepper
1 c. heavy cream
½ c. water
1/4 tsp.
glucomannan powder
(or use your preferred thickener)
DIRECTIONS:
Make the crepes ahead by that recipe's directions. Stack them with plastic
wrap
between each so they won't stick together. When ready to prepare meal, brown the chopped bacon over high heat in a non-stick skillet. When it is browned, added the shallot and red bell pepper. Saute until they are tender. Add all the shrimp, including those left whole for garnish. Turn the whole ones when the first side is browned. When those two are done, remove them from the pan and set aside for now. Add the parsley, wine (if using) and the salt and pepper. Simmer a few minutes. Lower heat to lowest setting. In a bowl, whisk the cream, water and slowly dust the
glucomannan
over the liquid (or whatever thickener you're using), whisking constantly until blended. Pour the liquid into the skillet and simmer the filling a couple minutes to meld flavors. The sauce will turn slightly pink from the bell pepper.
Turn of heat and plate the crepes as follows:
ASSEMBLY:
Place your serving platter by the skillet and the stack of cooked crepes close at hand. Try to visually judge in the skillet 1/5 of the filling as you have 5 crepes to fill. Using a slotted spoon, so as to get mostly just the solids, place 1/5 (about 1 cooking spoon) of the filling into one of the crepes, roll carefully and lift the filled roll onto the platter, placing seam down. Repeat for the remaining crepes, lining them in a row. The remaining sauce in the skillet will be dribbled over the crepes. If you don't have enough sauce left to do this, add a little more cream, blend with a spoon and adjust salt if needed. Then pour the sauce down the center of the crepes on the platter and garnish with the whole shrimp you browned and a sprinkle of chopped parsley if desired. I hope you enjoy these as much as we did!
NUTRITIONAL INFO FOR MY FILLED CREPES:
Makes five crepes, 5 servings, each contains:
371.2 calories
30.5 g fat
7.06 g carbs, .62 g fiber, 6.44 g NET CARBS
15.44 g protein
287 mg sodium
258 mg
potassium
51% RDA Vitamin A, 10% B6, 42%
B12
, 20% C, 20% D, 10% E, 16% copper, 26% iron, 10%
magnesium
, 13% manganese, 30% phosphorous, 27% riboflavin, 46%
selenium
, 14%
zinc
Here's Jen's crepe recipe as written (deleted her intro). PLEASE note her crepe maker is smaller than mine and she gets 9 crepes rather than the 5 larger ones I get from her recipe.
LOW CARB CREPES
3 oz regular cream cheese
4 eggs
3 tbsp gluten-free
oat flour
Liquid sucralose
to equal 4 tsp
SPLENDA Granular
(I omitted)
1/2 tsp vanilla extract (I omitted)
In food processor, process cream cheese. Add eggs; process. Add oat flour, liquid sucralose, OR
SPLENDA
Granular and vanilla extract and process until smooth, scraping down the sides at least once and processing again. Use 3 tbsp (45 mL) batter for each crepe and a small, nonstick 5-inch (13 cm) crepe pan. Tilt pan to coat with batter. Cook over medium heat. Flip crepe when it is easy to slide a spatula underneath it. Cook a few seconds on the second side. Set aside in covered casserole dish and in the oven at a low heat of 190°F (88°C). Brush pan with a little olive oil between every few crepes. Without the oil, the crepes will have a smoother appearance.
Yield: 9 crepes (using a 5" crepe maker)
1 crepe:
72.9 calories
4.0 g protein
5.4 g fat
1.8 g net carbs
Yield: 5 crepes (using a 7" crepe maker):
1 crepe:
134 calories
10 g fat
6.94 g protein
3.56 g carbs
.28 g fiber
3.28 g net carbs and
these numbers
are reflected in the recipe per serving nutritional numbers.