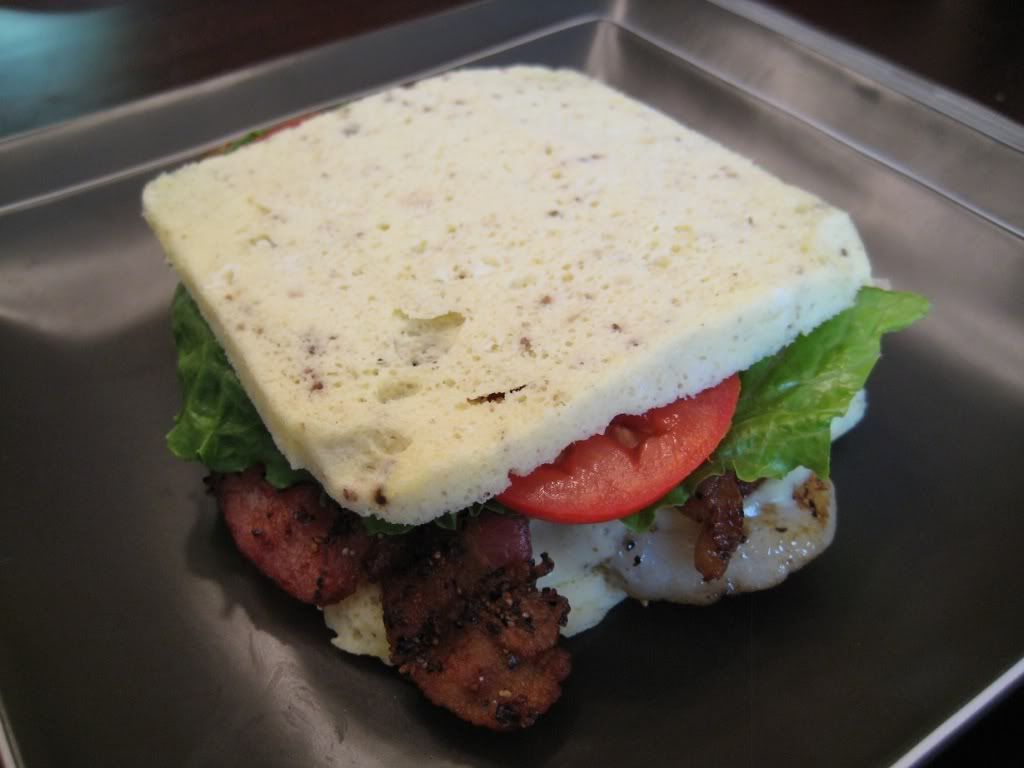 Sometimes you throw things together from the fridge, no recipe, know it'll be OK, but have your doubts just how good it will be……then, come to find out, it's not only OK, but an outstanding combination of flavors! Happens to me all the time, and it's usually just came about because one item was sitting on the same refrigerator shelf beside the other item. Happened to me again today when I went to make my lunch. I had thawed a swai fish filet Sunday to cook for myself when my husband was out of town but ended up not cooking it after all. Well, to be honest, I forgot it was in the fridge for 2 days. Today, I decided I needed to eat that fish and thought about a fish sandwich for lunch. The individually sealed plastic package was sitting right on top of my fresh package of low-sodium bacon, so when I pulled it out, I thought "Bacon is good in fish stuffing" and grabbed the bacon. Besides, bacon goes with EVERYTHING! Then I remembered my creamy fish sauce recipe and grabbed the jar of homemade shawarma mayo
salad dressing
I made Monday. VOILA, a wonderful, delectable sandwich was born that I'll be making again!
It only took me 5-10 minutes, start to finish, since I always have some sort of low-carb
bread
made up in the fridge at the ready. This recipe is suitable for all phases of Atkins and for
Paleo
-Primal eaters provided you use a Paleo-Primal acceptable bread.
Note: I usually slice my individual white bread recipe into 3 thinner slices because it is so filling I have difficulty eating a whole one! But the thinner slices didn't hold together so well for me, due to the heat of the fish. Same thing a real hot hamburger pattie does to your hamburger bun. The sandwich was kinda messy with the bread cut so thin. So next time I will split my bread into just 2 slices or use a sturdier bun for this particular sandwich.
INGREDIENTS:
1 serving acceptable bread/roll (I used my Individual White Bread)
4 oz. filet of swai, tilapia or other mild fish
3 slices bacon
black pepper
2 tsp. shawarma seasoned mayo
½ leaf romaine lettuce
2 slices tomato
Dash onion powder
DIRECTIONS:
Place bacon in a heated non-stick skillet or griddle. Pepper it with black pepper and brown the 1st side. Flip the bacon and pepper the other side and finish cooking to your preferred crispness. Remove and drain. Sprinkle onion powder on fish and sear the piece of fish in the same hot, peppery bacon grease for about 2 minutes on each side (until center/thickest part is done). Place fish on the bottom of your bun, then the bacon, then the shawarma mayo, then your tomato and top with the lettuce. Place your bun top on your masterpiece and ENJOY!
NUTRITIONAL INFO:
Makes 1 sandwich. Please note: numbers below are only for the sandwich contents and not the bread, as each person will likely use a different bread. Add in carbs for whatever bread you decide to use.
Each sandwich's contents contains:
224 calories
18 g fat
1.8 g carbs, .7 g fiber, 1.1 g NET CARBS
19 g protein
389 mg sodium
171 mg
potassium
Using Peggy's Individual White Bread recipe
(using the WHOLE thing for your sandwich, not sliced thinner like I did on this one) your sandwich will then have 582 cals, 44 g fat, 9.9 g carbs, 4 g fiber, 5.9 g NC, 52 g protein, 75% RDA vitamin
B12
, 71% iron, 89% phosphorous, 54%
selenium
, 39% riboflavin and 21%
zinc
.