I made New England Boiled Beef for dinner tonight, but for the very first time using
grass-fed
beef. Man, it was undoubtedly the very best pot of this I have EVER made!
I'm really liking this grass-fed beef! I got my first order recently. It just seems to make everything BETTER!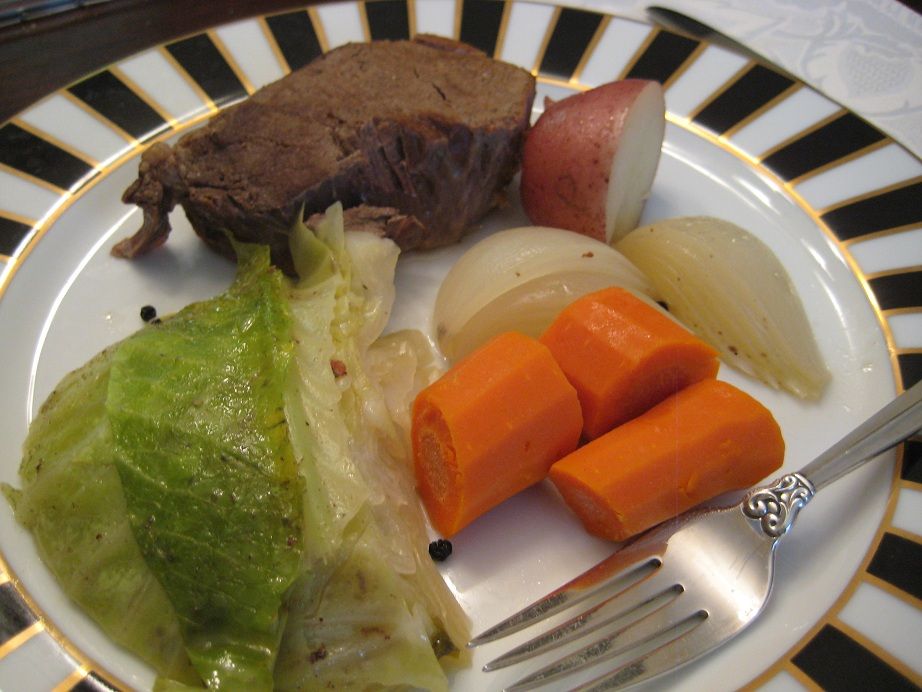 This is one of my husband's all-time favorite dinners. The very first time he ever had it was at Brennan's , down in the French Quarter in New Orleans many, many years ago. We hadn't been married very long then and I had never tried to cook this dish. He simply fell in love with it! He's not very fond of cabbage, but absolutely loves it cooked in a pot of beef stock like this, as it picks up the beef taste. Using grass-fed beef for this for the very first time tonight, made this the very best boiled beef dinner I have ever made! I used a small chuck arm roast that was fairly small, about 2 lbs. total, with a medium marrow bone in it. The meat literally fell apart taking it out of the pot, it was so fork-tender. No knife required! The wonderful stock, after our meal, was placed in jars and frozen for soups and other uses. I don't like to cook my vegetables to death in this boiled dinner, so I like to simmer my meat for an hour or two, until completely done, before adding the veggies. The vegetables only simmer in the stock for about 20-30 minutes, just until tender, depending of course on how large I cut them up. This way the veggies don't disintegrate in the stock and lose their vibrant color. AS it is nearly impossible to calculate the per serving counts for this as that will vary on the size of the meat portion and veggies, but I have attempted to do so basing it on a 5 oz. portion of meat and the specified portions of veggies. Since the classic New England Boiled Beef vegetables are usually higher-carb veggies, this dish is fairly high in carbs. You can cut the carbs by about 12 net carbs by skipping the ˝ small potato listed and shown above, subbing in either red radishes or turnips. This dish is better saved to AFTER INDUCTION, since it is so carb-y. But I would add that it is a very nutritious dinner indeed. Check out the stats on this one! It is definitely suitable for a
Paleo
-Primal lifestyle.
INGREDIENTS:
2 lb. small grass-fed beef roast (should serve 5 people after bone removed)
2 T. olive oil
3 large 8″ carrots
1 large onion
3 small red potatoes
20 oz. green cabbage, cut in 5 wedges
10-12 black peppercorns
Sea salt (optional)
DIRECTIONS:
Heat olive oil over high heat in large stew pot. If you wish to speed up cooking, I recommend cutting roast in half. Brown meat well on all sides in the hot oil. When well-browned, cover with water enough to cover 1″ above the meat. When it comes to a boil, lower heat so that it is just simmering. Add peppercorns, cover and cook low about 1-2 hours or until done and pretty tender. While the meat is cooking, cut your veggies. Cut the carrots into large 1-2″ pieces. Cut the potatoes into halves. Cut the onion into 5 wedges. And finally, cut five 4 oz. wedges off your head of cabbage. When the meat is done, place the carrots, potato, onion around the meat. I like to lay the cabbage on top of everything, so it really steams and doesn't overcook. That way you can dip whole wedges of cabbage onto each plate for a nicer visual appeal. If there is not enough stock to half cover all veggies, add a little more water to the pot. Bring to a boil again, lower to a simmer, cover and cook about 20 minutes, just until potatoes and carrots are just done but not getting mushy. Serve at once. This is great served with your favorite low-carb rolls and butter.
NUTRITIONAL INFO:
Makes 5 servings (5 oz. meat each). Each serving contains:
377 calories
13.1 g fat
30.0 g carbs, 6.1 g fiber, 23.9 g. NET CARBS
35.4 g protein
162 mg sodium
1273 mg
potassium
44% RDA Vitamin A, 80% B6, 111
B12
, 73% C, 12% E, 9%
calcium
, 37% iron, 24%
magnesium
, 24% manganese, 64% niacin, 58% phosphorous67%
selenium
, 31% riboflavin, 107%
zinc