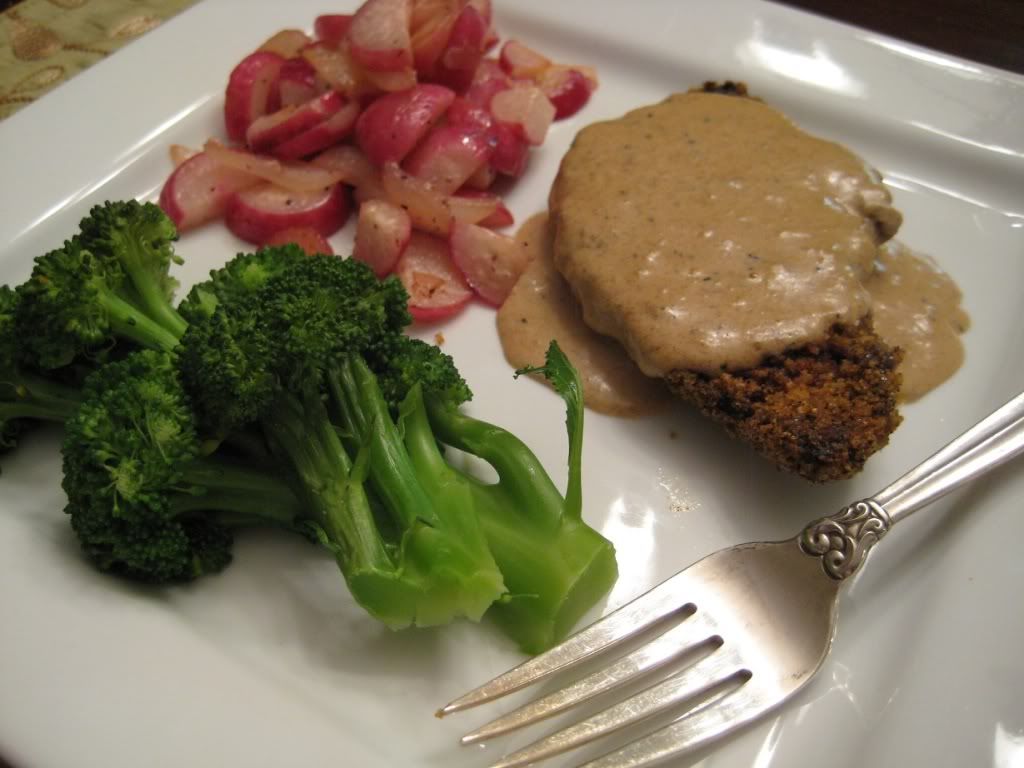 Man, do (did) I ever miss chicken-fried steak with cream gravy sometimes!! Well no more yearning for a long-lost love! I just created a CFS that's pretty dang close to the real deal! I've had such good luck with my mayo-pork rind coating for various oven-baked "fries", numerous "fried" veggies as well as for "fried" fish filets, I thought to myself more than once, "Why not give it a whirl on beef"? Well, I finally got around to that!
My first thought on this topic was that the beef would exude too much moisture during baking, if coated raw, and the pork-rink coating would get "soggy" rather than crispy. So I decided to sear the meat first to seal in those juices before I began. That turned out to be a VERY good decision. My first attempt on a Chicken Fried Steak was really, REALLY good last night. And the gravy was SUPER, even without the traditional step of browning some flour in the pan drippings for tastier gravy. The natural caramelized meat juices deglazed from the skillet made a DELICIOUS cream gravy without a bit of flour! Who'da thunk? I served this alongside radishes and onion sauteed in bacon grease (to mimic cottage fries) and steamed broccoli. Mmmmmm was it ever GOOD! My only improvement will be to take it out of the oven sooner next time as I was stalling until my radish/onion saute was done and browned it a bit more than we like, as a rule.
You can use round steak for this dish if you prefer, but I I have always preferred chuck or sirloin for my CFS. Better taste in my opinion. I'm not very fond of round in anything. This recipe is OK for Induction!
INGREDIENTS:
1 lb. trimmed sirloin, chuck or round steak
1/3 c. mayo (preferably homemade as it takes less usually)
1 T.
coconut oil
for searing
2 oz.
pork rinds
, crushed fine
½ tsp. spice seasoning of your choice (I used my Seafood Spice Blend: see recipe below)
FOR THE GRAVY:
1 c. water
½ c. heavy cream
Dash salt and black pepper
DIRECTIONS:
Crush pork rinds fine and stir in spice seasonings. Place into shallow bowl with a spoon for applying and set aside while you prepare the meat. Trim meat of all visible fat and gristle. If using chuck or sirloin that is very thick, slice it laterally if need be to to create a pieces about ½ thick. Preheat oven to 425º. Cut into 4 portions and pound the pieces with a meat cleaver or mallet to tenderize it a bit. Heat
coconut
oil in non-stick skillet and sear meat on both sides until lightly browned, sprinkling lightly with black pepper as it sears. You don't want to cook the meat DONE here, just seared a bit. Remove from heat.
Pour mayo into a saucer and using a brush, holding the HOT meat on one tip with tongs (I use tiny ice bucket tongs), coat both sides of each piece of meat well with mayo. Then move over to the bowl of crushed pork rinds and using a spoon, spoon the rinds over both sides of the meat. You'll get decent coverage without any one piece getting excess. I have found that if you just dip the meat into the rinds, it "grabs" say more coating than is necessary, resulting in not having enough rinds to finish the job at hand and have to crush more (been there; done that) and increase calories. Place the coated meat onto a non-stick baking sheet and pop into preheated 425º oven. Bake about 20 minutes or until browned to your liking.
As the meat is cooking, make your cream gravy. Add 1 c. water to the skillet you seared the meat in and over low heat, completely deglaze all the tasty brown bits off the bottom by scraping the bottom of the pan with a spoon or spatula. Add the cream and simmer to reduce. This add both color and flavor to your gravy. Add a dash of black pepper and salt to taste. If you prefer a thicker gravy, you can slightly thicken with your preferred thickener.
Serve with gravy dipped over meat. This goes well with many of your favorite vegetable dishes. I hope you ENJOY! When you note the nutritional stats below, you'll say the moral of this story is
EAT MORE CHICKEN FRIED
STEAK! Shhhh! Don't say it too loud near one of those Chick-Fil-A signs.
NUTRITIONAL INFO:
Makes four 4-oz servings, each contains:
471.3 calories
30.8 g fat
1.9 g carbs, .03 g fiber, 1.87 g NET CARBS
45 g protein
356 mg sodium
523 mg
potassium
59% RDA Vitamin B6, 112%
B12
, 43% iron, 75% niacin, 65% phosphorous, 52% riboflavin, 128%
selenium
, 93%
zinc
Seafood Spice Blend Recipe (big batch):
7 T. paprika
¼ c. garlic powder
2 ½ T. crushed oregano
3 T. ground thyme
3 T. onion powder
2 T. black pepper
1 T. cayenne pepper