Strawberry/Rhubarb pie
8 servings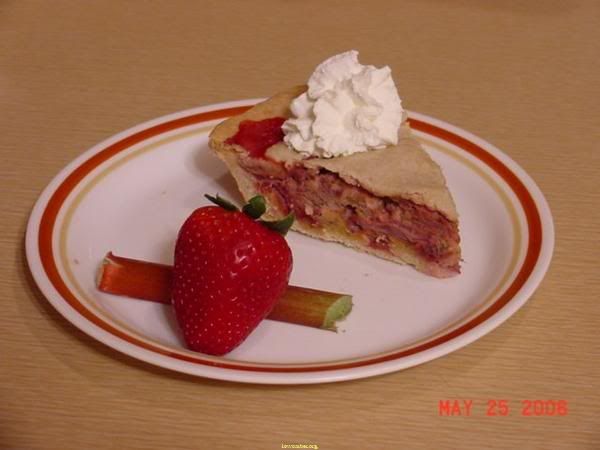 Crust
2/3 c. + 2 T. shortening (I used crisco green with no trans fats)
1 1/2 c.
Carbalose flour
1/2 c.
resistant wheat starch
4 T. + 2 t. cold water
Cut shortening into flour until the particles are like small peas.
Sprinkle in water, 1 T. at a time tossing with fork until all flour is moistened and pastry is clinging to the side of the bowl.
Roll out between 2 lightly dusted(WPI) sheets of wax paper.
(4.5 carb per serving for crust)
Filling
2 cup chopped rhubarb
2 cup sliced strawberries
3 eggs
3 T heavy cream
4 T
wheat protein isolate
2 cups sweetener equivilent
3/4 t. nutmeg
2 T. butter
(3 carbs per serving for filling using
liquid
splenda
7 carbs using granular splenda)
Beat slightly eggs and mix together with heavy cream.
Stir in sweetener,WPI, and nutmeg and combine well.
Fold in rhubarb and strawberries till covered the tranfer to bottom crust.
Dot filling in pan with butter and cover with top crust and vent.
Bake till nicely brown, about 50 - 60 min in a 375 oven.