I've made these a couple of times and they're very good. I used a slightly different dough that's made with
pork rinds
and
coconut
flour instead of
almond flour
. They're best hot from the oven but they reheat pretty well in a toaster oven.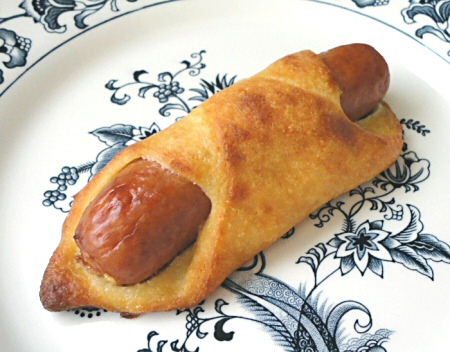 SMOKED SAUSAGE IN A BLANKET
5 ounces mozzarella cheese, shredded
1/4 cup butter, cut up
1/4 cup ground pork rinds (18 grams)
2 tablespoons
coconut flour
(17 grams)
1 teaspoon garlic powder
1/4 teaspoon onion powder
1 egg
14 ounce package smoked sausage links with cheese *
* I used Johnsonville "Beddar Cheddar" smoked sausage links and there are six per package. Each sausage link has 2 carbs.
In an 8-cup measuring cup, or large microwaveable bowl, heat the cheese and butter 1 minute on HIGH. Stir well and cook another 30 seconds if cheese and butter haven't completely melted. With a wooden spoon, stir in the pork rinds, coconut flour, garlic powder and onion powder. Blend well until the mixture resembles
bread
dough. Add the egg and stir in well. If the mixture is too stiff, microwave 30 seconds until soft and pliable.
Line a rimmed baking sheet with parchment paper. Place another sheet of parchment paper on your counter. With wet hands, pat and push the dough into a rough rectangle about 8x11 inches on the parchment paper that's on the counter. Cut the dough into six equal pieces with a knife or pizza wheel. Place one of the sausage links diagonally in the center of a piece of dough. Fold the outside corners of the dough up and over the sausage and press to seal. Place on the baking sheet and repeat with the remaining sausages.
Bake at 375║ for about 15-20 minutes or until the dough is golden brown. They may get a little dark on the bottoms but they won't taste burnt. I recommend rotating the baking sheet once or twice during the baking. Serve at once.
Makes 6 servings
Per Serving: 386 Calories; 33g Fat; 17g Protein; 5g Carbohydrate; 1g Dietary Fiber; 4g Net Carbs